If you are in search of doing something more than 'touristy', keen on knowing a place and not just striking basic poses for the camera (read: before a colonial/modern structure, with the locals, at the restaurant with a glass and wearing a hat on a boat); you may want to visit this small village tucked in the hills of eastern Thailand.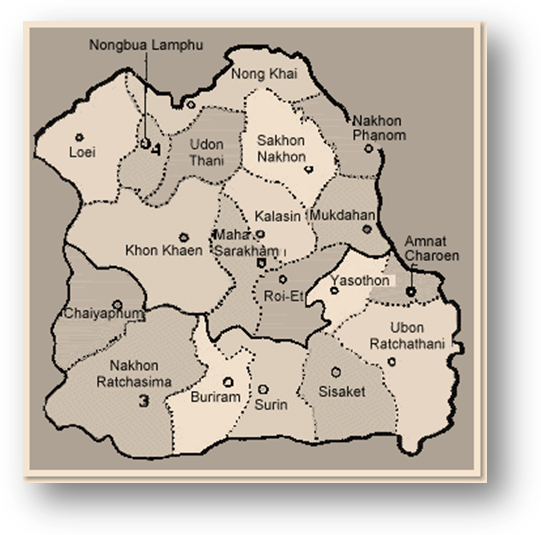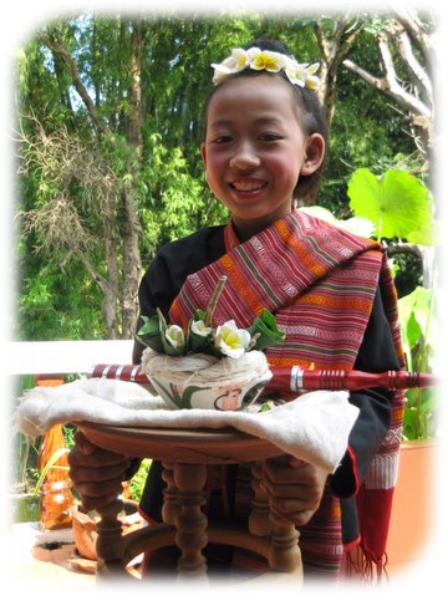 Welcome to Ban Kham Phok (literally: village in the hills) about 160 kilometers from Khon Kaen and 50 kilometers from Mukdahan (the capital of Mukdahan province, located on the banks of the river Mekong). This is a village of the Phu Thai tribe. Distinctive in its folk tradition, this is a Thailand beyond packaged tours, hectic shopping and glossy beaches. It is the real Thailand! Ban Kham Phok is a village of about eighty families, approximately 800 people. Almost a self contained village, it has a clinic staffed by two nurses, a kindergarten, primary and secondary school, two temples- in the forest and village, and its own water supply. Electricity is all that it depends on from others. (Considering that each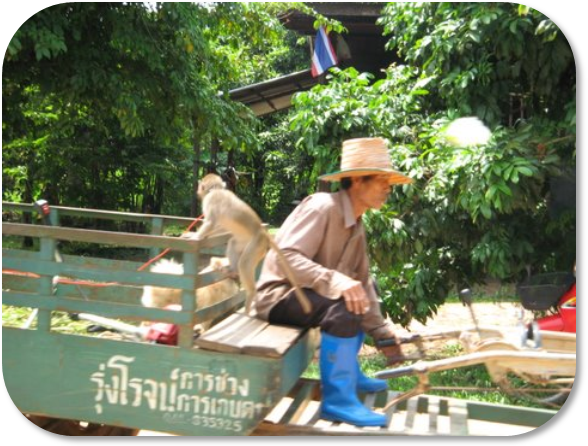 house has not more than one night bulb lit at night, the requirement doesn't seem to be much!) What strikes you about this place and its people is the pace- the relaxed style of work, life and sheer contentment in existence. It is sure to rub on to you. Take a stroll down the red mud road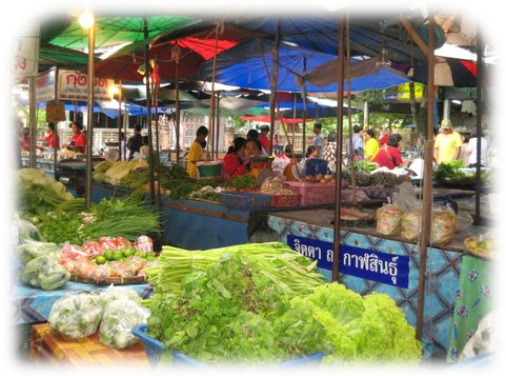 and you will see the elderly in hammocks, villagers working (more women than men. We are told that the place is almost run by women) at some handicraft, vegetable or meat, and children playing, or riding motorcycles. A farang (as foreigners are called) is more often than not, acknowledged with a puzzled, quizzical smile. If you are with a child, chances of a conversation are high, with each side not understanding the language of the other!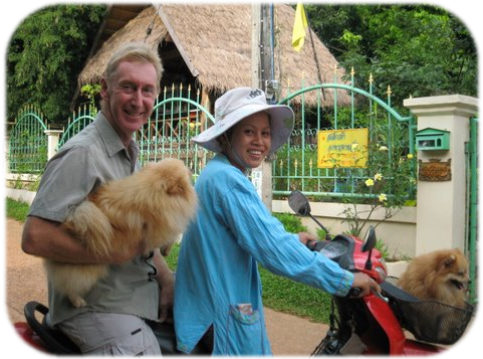 A stay in this village is a window to the culture of Isaan (a collective term for the northeastern region of Thailand). The name Isaan comes from Isana, the Sanskrit name for Mon-Khmer kingdom that flourished in what is now northeastern Thailand and pre- Angkor Cambodia. Isaan culture and language are marked by a mixture of Lao and Khmer influences. The prime occupation of villagers is farming and most have two farms each. One is a rice farm (Naa) and the other, for all else (Sawaan).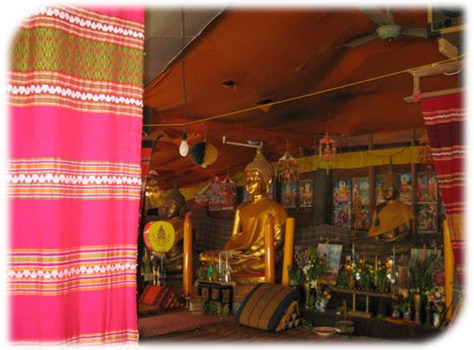 Isaan food is famous for its pungency and popular dishes include Kai yang (grilled spicy chicken) and Tom Sam (spicy salad made with papaya, lime juice, garlic, fish sauce and fresh chilies). A visit to the local market will show you the whole range of vegetables and meats (including bugs, frogs, and dogs). Sticky or gluttonous rice is the staple diet.You may choose to stay at the Thai House Resort, a home stay. The villas are clean and comfortable. Run by a couple, Noi and David, the resort is also a home to several hens, ducks, turtles, fish, turkey, monkey, cat and two dogs. Noi is from the village and David is an Australian. They offer a balance between the authentic Thai experience and Western requirements. Noi prepares Isaan cuisine and David does tours with the guests.There is a lot to do here. You can visit the numerous temples, farms, the Mukdahan Museum; go shopping around the riverside Indo China markets that have things from Lao and Thailand; village school, local vegetable market or go for treks along the terrain. Shoppers itch can be satisfied at government organized retail shops in the villages. Weaves are vibrant and rates very reasonable. You may want to buy cotton fabrics, hand woven and stitched jackets, handicrafts and silk (best silk is said to come from north east Thailand).Travel from Singapore is easy and cheap because of the budget airlines. Singapore to Bangkok takes about two and a half hours. You can choose to fly Tiger airways or Air Asia to Bangkok. The Air Asia flight (daily) from Bangkok to Khon Kaen takes fifty minutes. The village is a three hour drive from Khon Kaen.All seasons are great if it's the village life that you want to experience. October to January is winter. The temperatures could be around 15 degrees in the morning and about 25 during the day. February to April end marks the end of the dry season. July is the hottest and can reach a temperature of 37 degrees, however being in the hills, this village is relatively cooler than other places. Mid June to mid September, is the rainy season. If you plan to go around the region, these months are best avoided.This is Thailand without the veneer, and worth experiencing.