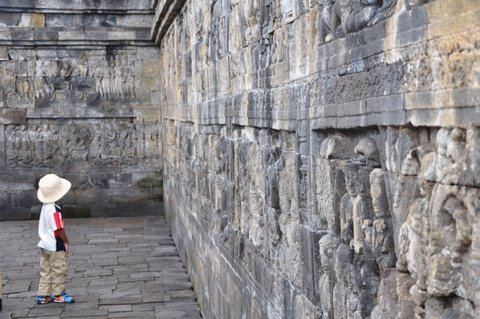 Every mound is a volcano; and smoke (anywhere), an erupting volcano.
All drawings in the past three weeks have at least one mound and a vertical line reaching out from the centre of the mound to the top of his drawing sheet. This, he tells me is 'Lava from the volcano.' We have just returned from a short trip to Borobudur in central Java, Indonesia.
I must admit, I was concerned if our three and a half year old son, Avi, would share a fifth of our enthusiasm about visiting a Buddhist temple believed to have been built in the 8th and 9th centuries by the Shailendra dynasty (known for intricately carved stone blocks) from two million block stones (interlocked lava rocks). I wondered also if this trip was an instance of parents taking kids to a destination they want, not one necessarily that a child would enjoy.
The Borobudur temple is in the form of a lotus, the sacred flower of Buddha. The monument represents the "three worlds" of Buddhist cosmology- Kamadhatu- the world of desire, Rupadhatu- the world of forms and Arupadhatu- the world of formlessness. The structure is erected around a small hill in the form of a stepped pyramid of six rectangular levels, three circular terraces and a central stupa forming the summit. The walls and balustrades are decorated with 1460 fine low reliefs,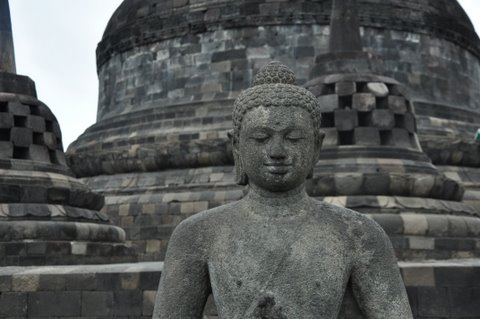 depicting the life and lessons of Buddha. Around the circular platforms are 72 openwork stupas, each containing a statue of the Buddha, identical except for their 'mudra' or position of hands. Each mudra signifies a spiritual attainment. A ten meter stupa crowns the structure. This stupa is empty. Local guides say that it once contained an unfinished statue of Buddha- and scholars debate if the statue was left unfinished depicting a state of nirvana or formlessness or the work was abandoned for some other reason. There is no written record about who built Borobudur, its intended purpose and reasons for abandonment. When it was rediscovered by Sir Thomas Raffles in 1814, it was buried under layers of ash from
Mount Merapi, a volcano active even today. Borobudur lay hidden for centuries and is today a UNESCO world heritage site.
This monument is the single most visited tourist attraction in Indonesia and the largest Buddhist monument in the world. But how does that make anything different for a three year old? But soon enough and to my relief, I found something that would make a huge difference- the Borobudur temple was restored extensively with the help of UNESCO in the 1970's. There. Now that was interesting! Restoration meant teamwork (the buzz word at home), tools, and most of all people building like Bob the Builder! Yes, we can!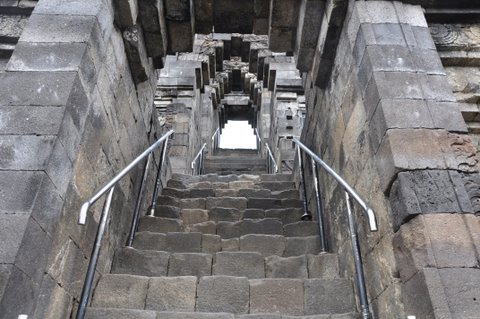 I tried to read as much about the place in order to get him upbeat about the trip. Frankly, I was aiming for a fifth of our excitement! Our first meeting ground was Lego building blocks. Days before we left for Borobudur we looked up pictures and tried to create, rather recreate the structure of the temple with blocks. Apart from all the hand eye coordination and constructive time utilization, what this activity did was prepare him for the number of steps (steep!) that we would need to climb. I also looked through 'Frommer's 500 Places to Take Your Kids Before They Grow Up,' by Holly Hughes. The index mentioned Borobudur, so that was a star for us, but it recommended it for kids who are six years and above. Oh well, it did mention all kids are different!!
Avi didn't quite enjoy our two hour flight on the budget airline. 'Why isn't the stewardess giving me food in a white tray?' 'Why isn't she giving gifts to children?' 'Why is everyone so quiet?' 'Have we reached?' 'When will we reach?' 'Are we there yet?' The craft kit that we had taken along was clearly not as engaging or half as fulfilling as we had expected. Not a great beginning here… But things looked brighter when we were received at the airport and Avi was offered a refreshing cold towel. Oh how he enjoys these services! It cooled us all for a while.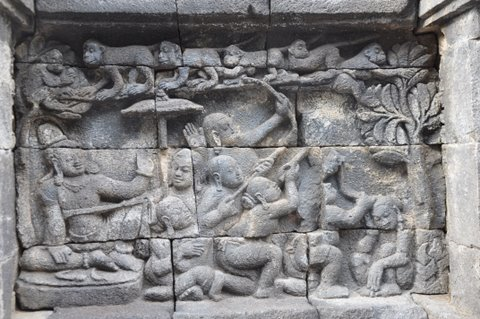 We decided to take the dawn tour of Borobudur temple next morning. The travel to the temple and guide were arranged by Amanjiwo, our hotel. Our task, and the only one, was to be at the terrace for a light snack at 5am. This doesn't happen too often, but waking up wasn't an issue. Avi was delighted to see us up and ready when he woke up. (Usually he's the first one up.) We enjoyed the croissants and were on the way to the temple by ten past five. It was drizzling, but we hoped clouds would drift way. The climb wasn't easy. After a few steps Avi sat comfortably on my husband's shoulders. Each time I stopped, huffed and puffed, our driver smiled and said 'It is believed that this temple leads the way to Nirvana. Nirvana not easy.' I wouldn't say I became closer to Nirvana, but everything about this place is truly magical. So much peace, it's surreal. At dawn, in the early morning mist, we stood on the highest circular terrace of the temple surrounded by cloud hugging mountains; encircled with Buddha meditating within stupa's; engulfed with a strange feeling of peace and enwrapped in unexplained contentment.
Avi was the only child here. While all those present were either in front or behind cameras, Avi entered a questioning marathon. 'Why is Buddha inside the stupa?' 'Who put him inside?' 'Why?' 'Who will take him out?' 'Why is the temple so high?' 'Who built it?' 'I can't see the sun. Where is it?' 'Why are the clouds in front of the mountains?' 'Where is our guide?' 'What will he tell us?' His questions kept us grounded.
We were joined by our guide Hassan after about an hour of waiting for the clouds to clear. He apologized for the clouds and began the tour. 'For centuries Borobudur was hidden. It was covered with layers of volcanic ash when Sir Raffles found it.' Avi's eyes lit up. 'Volcano?' 'Where?' Hassan pointed to Mount Merapi and almost immediately Avi saw smoke and lava coming out from the volcano! The walk around the 1460 narratives was enriching. These were stories of Buddha's life and teachings. Hassan explained a panel, 'Buddha's mother gave birth standing and just as he came out of the womb he walked seven steps, a lotus emerging at each step. We call him Super Baby.' 'Not Superman?' asked Avi, 'You know, I have superman at home.' Avi also showed some interested in the Jataka (birth) stories which featured monkeys and other animals (These were narratives of the many self sacrificing acts performed by Buddha in his earlier incarnations, before he was born as Prince Siddhartha). We spent a good two and a half hours at the temple- magical and peaceful.
It's been a while since we returned to Singapore. When we talk about Borobudur, we think of peace. When Avi talks about Borobudur, he brings a pencil, a piece of paper and draws a mound. From the middle of the mound emerges a strong vertical line out to the end, and very often beyond the paper! 'There. That's the lava coming out of Mount Merapi.' he says! And yes, he also talks about the 'touch-me-not' (Mimosa pudica) plants just outside the temple, pony ride, kite making and flying at Amanjiwo and a 'building' that he had made at home with building blocks!